Sometimes the words of this blog have flowed freely, buzzing with energy and humming with warmth.
Other times my brain has simply said no. Like a dried up sponge, it has refused to give.
But none of that matters, really. However the posts happen… they happen.
And they've happened enough for this to come knocking on the backdoor of my last post.
A moment of pleasant surprise.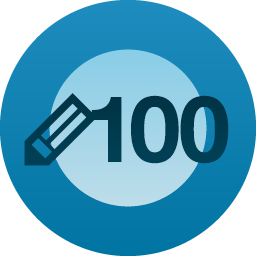 One hundred posts.
One Hundred Sunny Mummy Days.
It was a moment that struck me harder than I imagined it would.
You might think one hundred is too small a number to celebrate.
But to me, one hundred is good.
It's been one hundred opportunities to offer the world my perspective.
One hundred chances to offer my friendship. My knowledge.
My lack of knowledge.
It's been one hundred chances to share my humanity with the world.
And one hundred chances for the world to share their humanity with me.
To those I've met along the way, thank you.
For the humanity.
For the inspiration.
And for the moments; big, little, happy and sad.
Until tomorrow, then.
xx Miss Cookas